Philips Magnavox has offered customers of the Web T.V. unit, access to the Internet via competitive Internet Service Providers. ChicagoNet is pleased to announce that Web T.V. is compatible with our dial in equipment. Charges for this service are the same low cost of $14.95 per month billed to you by ChicagoNet. Plus an additional monthly charge that Web T.V. charges you to use their system. (Please Note: Web TV will reduced their normal charge when you are using ChicagoNet's Dial in access. The additional Web T.V. charge is not to use Web T.V.ís dial in access, it is to use their equipment). You must first register with Web T.V.

Configuring a new Web T.V. unit.
Re-configuring an existing Web T.V. unit. (If you are already connected to Web T.V. and want to reconfigure to connect to ChicagoNet).
Configuring E-Mail using Web T.V.

Configuring a new unit.
Once the Unit is hooked up and connected to the T.V (refer to Web T.V manual for instructions on this preliminary step) you will be prompted with an option to connect. Choose this option.
Next you will be connected with Web T.V. which will then get your local number via some use of Called ID. Once Web T.V. gets your phone number it then disconnects and dials a number closer to your location, with this phone call you will begin registration to Web T.V. Note: if your have not plugged in the phone line to the Web T.V. unit or someone else is using the phone line, it will alert you to plug the phone line in.
Choose the Continue option and it will than take you to a screen where you have the option to use your Remote or the Keyboard for the signup process, choose the appropriate option.
Next, agree to the monthly charge from Web T.V. This charge will be reduced once you have completed the configuration of your Web T.V. Unit for connecting to the Internet via ChicagoNet. You will need to agree to this first and become a Web T.V. customer before you will even have the option to use ChicagoNet as your ISP for Web T.V.
The next step is to fill out all the registration info, if you are using the remote without a keyboard. You can hit the "go" button to pop up a keyboard on the screen. Use this to fill out all requested info. You will need a credit card to register with Web T.V.
The last step of this process is to confirm the signup info and click on the "Signup" button. When you are prompted "You are finished Signing Up" you will be disconnected and you will then automatically be reconnected for your first Web T.V. session.
Once you make your first connection to Web T.V. you should be automatically taken to an upgrade that will enable you to use ChicagoNet well as other advantages.
Once the upgrade is finished you will be taken to the Web T.V. "Home" screen. If you are not at the "Home" screen, tap the "Home" button on your remote or Keyboard and you will be taken to the "Home" screen.
Once at the "Home" screen follow the next set of instructions "Re-configuring an existing unit" below.
Re-configuring an existing unit.
1. From the WebTV Web Homepage, select "Account" from the top bar.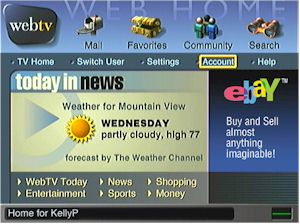 Please note: subscribers must be logged on as the primary user. The primary user is the name the subscriber chose the first time they connected to the WebTV Network service.
2. In Account, select "Use an ISP."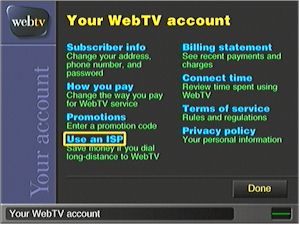 3. Choose "Sign Up Now."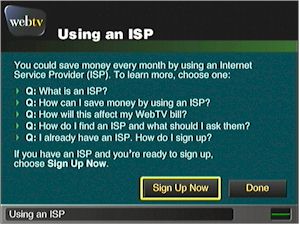 4. Enter ISP account information: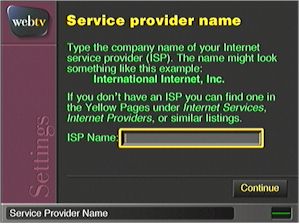 Enter ChicagoNet in the company name. Choose "Continue."
Enter primary dialup modem access numbers. Choose "Continue."
Enter your ChicagoNet user name and case-sensitive password .
Choose "Continue."
Confirm password. Choose "Continue."
Choose "Use your ISP."
5. Following this set up, the WebTV Internet unit will reset and reconnect automatically to complete the change. A confirmation screen will appear to verify that the subscriber is using an ISP ChicagoNet to access their WebTV subscription.
Configuring E-Mail using Web T.V.
Make your connection to the Internet using ChicagoNet as your ISP; DO NOT dial in via Web T.V.ís dial in Access numbers.
Open up E-mail by highlighting the "E-mail" option and pressing "Go".
Next, Select the "Settings" option and press "Go" again.
Before you change the WEB T.V. settings to use your ChicagoNet e-mail account you need to be sure and have the following info. Your Mail account username, your mail account password, and the ChicagoNet mail server name which is: mail.chicagonet.net
Now, select Continue and fill out the requested mail settings info.
When finished with the requested info, select "Continue" and your settings will be saved and the next time you check your E-mail you will be getting E-mail from your ChicagoNet E-mail account.