1- Make sure that you have Dial-Up Networking installed on your computer. ( If you are not sure, do Step 2.)
2- If you do not have Dial-Up Networking installed you need to:
Go to "Control Panel. Then "Double click "Add/Remove Programs".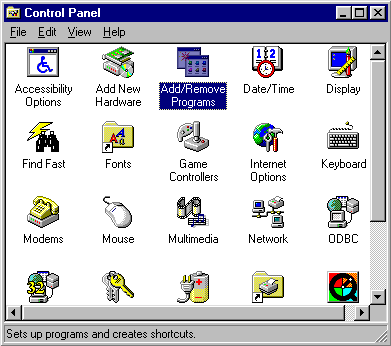 Select the "Windows Setup" Tab. Put a check in Communications Box and double click on "Communications".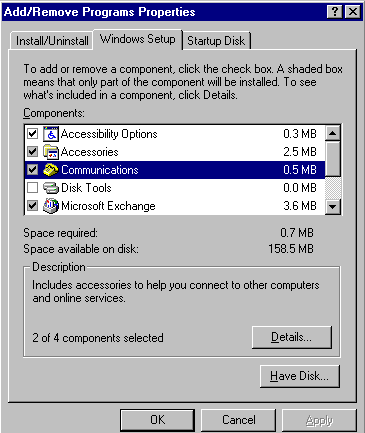 Check the "Dial-Up Networking Box." Click "OK." Click "OK " again.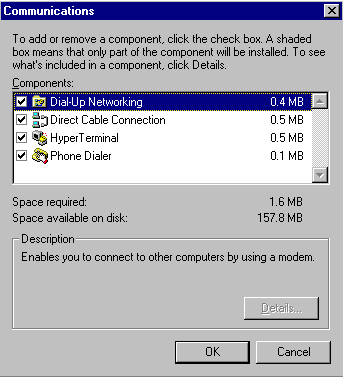 Dial-Up Networking will be loaded and you may be asked to restart the computer.
---
Configure Network:
1- Go to Control Panel.
2- Double click on the "Network" icon.
3- Double Click Dial-Up Adaptor.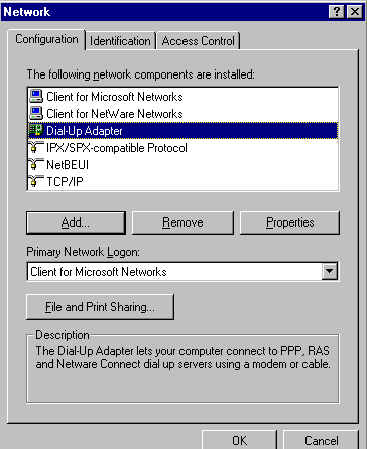 4- Click Add.
5- Click Protocol, then, click add again.
6- Select Microsoft on left side, select TCP/IP on right side.
7- Click OK.
8- Click OK again.
9- You will be asked to restart computer.
---
Create a Dial-Up Networking Session for ChicagoNet
1- Double click the "My Computer" icon on your desktop.
2- Double click the Dial-Up Networking folder.
3- The "Setup Wizard" will begin.
4- Type the name you would like your connection icon to be called (e.g., Chicagonet)
5- Check the type of modem listed to be sure it matches the type of modem in your computer then, Click Next.
6- Enter Area Code and Telephone Number for the service you are dialing. (Refer to the ChicagoNet local dialup list.)
7- Click Next.
8- Confirm the name of your connection and click Finish.

9- After finishing the setup, click once on the icon that was just created by the Dial-Up Wizard. It will be the same name you gave to the connection.( e.g., Chicagonet), and select File, then Properties from the menu.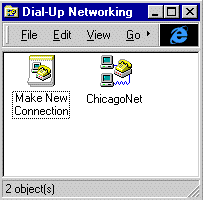 11- Click on the "Server Type" tab.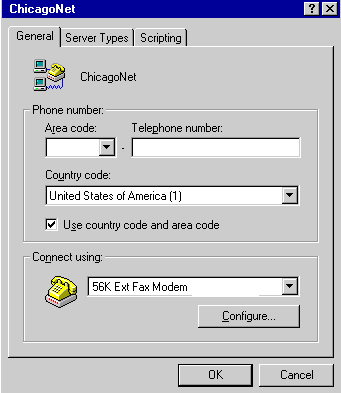 12- Uncheck the box for logging onto the network.
13- Uncheck the boxes for "NetBEUI" and "IPX/SPX" and make sure that the TCP/IP box is checked.
14- Click on "TCP/IP settings".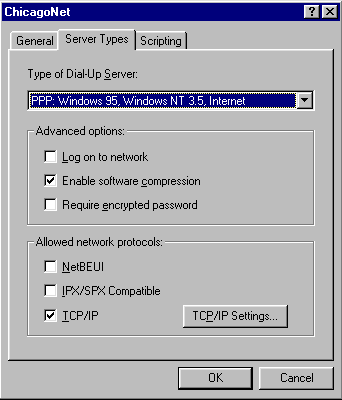 15- Make sure that there is a "dot" in the following fields: "Server assigned IP address" and "Specify name server addresses".
16- Type in the Primary and Secondary DNS server addresses as shown below.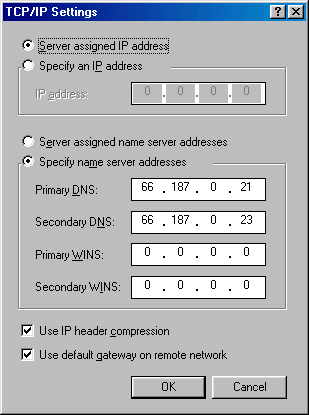 17- Click "OK"
18- Click "OK"
19- Click "OK"
---
Starting Your Connection
1- Double click on the icon in Dial-Up Networking that you created for Chicagonet.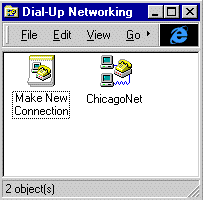 2- Enter your username.
3- Enter your password.
4- Click on the connect button.
5- Your phone should dial.
6- Wait a few seconds and you will be connected.
7- Minimize the window that has the connection information in it.
8- Congratulations!!! You are now connected to the Internet.
9- You are free to run any Internet application, such as Internet Explorer or Netscape.