Step 1
Open Netscape Messenger. This can be done by opening your Start Menu, pointing to Programs, pointing to the Netscape Communicator folder, and selecting Netscape Messenger.
Step 2
From the Edit menu, select Preferences.
Step 3
On the Preferences dialog that comes up, click the Identity category.
Fill in Your Name as you'd like it to appear on messages you send out.
Also, enter in your E-Mail address. This should be in the format "username@chicagonet.net" as shown below.
The remainder of the information is optional and does not need to be entered.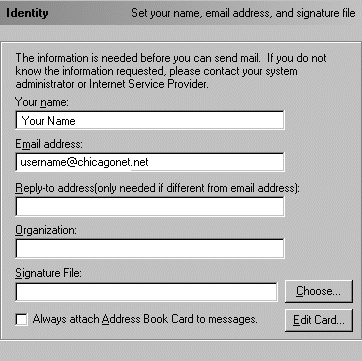 Step 4
Now, click the Servers category. Fill in the following information:
Mail server user name - put your username here.
Outgoing mail (SMTP) server - mail2.chicagonet.net
Incoming mail server - mail.chicagonet.net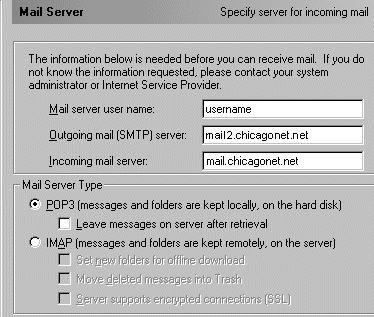 Step 5
Click OK to save your information and finish setting up your mail account.