Reliability and speed from experts in dedicated access.

Whether you're looking to access your corporate Intranet or to open up a high performance pipeline to the Internet. ChicagoNet Dedicated Internet Access gives you an unparalleled connection.
Access your corporate LAN at speeds up to OC12
Connect with dedicated local access across the country.
Tap into the power of a separate intranet backbone for your business needs.
Put our 24x7 monitoring service on your side to ensure your connection is continuously up and performing.
Connect to Internet networks around the world.
Multi Homing

The internet is a set of many private networks connected together. These private networks are also known as backbones. They all deploy the common protocols that tie the Internet together. The physical connection is accommodated at "peering points". A peering point is like a highway intersection. As you can imagine, most of the packet loss and delays happen at these "peering points".
Multi-homing, is a way to get around this congestion.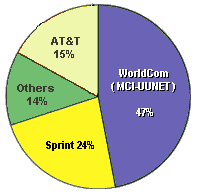 ChicagoNet has state of the art technology which implements the latest BGP4 routing protocol to allow true multi homed operation. ChicagoNet connections using WorldCom, Sprint and AT&T assure coverage throughout 80% of the internet without passing through the congested "peering points".


Elements of a Internet Connection
There are four components of every dedicated connection:
Internet Feed (the Internet data you're sending/receiving)
Circuit (the leased phone line transporting the data to/from your office)
Hardware (the physical equipment that makes the connection work)
Software (the programs which allow you to use the Internet)
Internet Feed
ChicagoNet connects directly to three T3 Internet backbones, the At&T backbone, the Sprint backbone and the MCI/Worldcom backbone. These links allow us to provide fast, high-volume Internet connections to our customer base. Furthermore, these connections run over two separate fiber optic networks--Ameritech and TCG--for the ultimate in redundancy and reliability.
ChicagoNet's policy is to never "over-sell" its Internet feed capacity. In other words, we could sell hundreds of dedicated connections without ever upgrading our own backbone connectivity. But we don't do that, because customers' performance would suffer, and we don't feel that's a good long-term strategy. Instead, we carefully monitor the usage of our Internet connection, and upgrade it as needed to keep our customers happy.
ChicagoNet can provide you with an Internet feed at one of the following speeds: 56Kbps, 128Kbps, 256Kbps and T1 speed, which is 1.54 Megabits per second.
Which speed connection is right for you depends upon your needs. The ChicagoNet sales department will help you figure out the right fit, and determine an upgrade path for your future Internet needs.
Circuit
The circuit, or leased line, is a special type of phone line which does not operate like a standard telephone line. It has no dialtone, because once the "call" is made, it never hangs up. The leased line connects your site to ChicagoNet 24 hours a day, 7 days a week.
The leased line for your 56K, 128K, 256K, or T1 dedicated Internet connection is a digital high-speed data line, as opposed to a standard phone line, which is analog.
ChicagoNet provides the circuit for these connections in all cases. We take all of the ordering and installation hassle away from you--we'll simply tell you when the phone company will be stopping by to install the line. Furthermore, we take care of the phone company's billing for the installation and monthly service, so your Accounts Payable department will only have to see one monthly bill from ChicagoNet, which will include all of the costs of your dedicated ChicagoNet connection.
Hardware
For digital lines (56K, 128K, 256K or T1 speeds), analog modems do not work, and special networking devices are needed. First, you need a CSU/DSU, which is basically just a modem for digital lines, to plug into the wall jack for the leased line. Second, you need a router, which functions as an intelligent high-speed switch, sending the correct Internet data packets to the destinations on your network.
ChicagoNet will always provide and manage the router and CSU/DSU hardware on both your end of the connection and ours. This is included in our pricing. The truth is that the installation and maintenance of Internet connections require much more technical expertise than most customers imagine. We know how to get your service up and running, and how to maintain the smooth operation of your link.
Software
The software is the most open-ended of the four components of a dedicated connection. Potential variables are: the operating system, the networking communications protocol, the network file sharing software, email gateways, firewall & security software...the list goes on and on.
The dizzying array of software applications and platforms involved in a dedicated connection make it impossible for ChicagoNet to have expertise in all but a few of them. In order to be realistic in our capabilities to deliver service, we've positioned ourselves as follows: We bring the dedicated Internet connection to your doorway, but we do not bring it to your desktop.
We work with many consultants, who are in the business of bringing the Internet to your desktop. These Internet integrators specialize in various components such as integrating LAN email with the Internet, setting up and maintaining firewalls, UNIX hosts, Web servers, etc. These business partners of ours team up with us to provide a TOTAL solution for your Internet needs. We provide the internet service, and they integrate the connection for you. It makes for an extraordinarily effective team. ChicagoNet sales can recommend a particular consultant to you, based upon your needs.
Value-added Services
Our dedicated Internet connections come with the following services, included at no extra charge:
Domain name registration and primary DNS service
NIC-registered Class C addressing
Unlimited phone technical support 18 hours per day during the week, 6 hours per day on weekends
On-site emergency service when needed
References to consultants who can assist you with LAN integration of your connection
Service Parameters
You should be aware of the following:
Dedicated connection customers may not resell Internet access. Providing access for your employees is fine; building and hosting World Wide Web pages on your Web server for your clients is fine. But charging others to access the Internet via your connection to ChicagoNet is not permitted.
Because of the variation in network topologies, etc. ChicagoNet has to have a universal definition for a "working" dedicated connection. ChicagoNet considers the connection to be working if Internet Protocol (IP) data is flowing out the Ethernet port on the back of the router we provide you. If you have connectivity or email difficulties beyond this definition, ChicagoNet cannot take responsibility. It is a problem with your local network configuration.
If you are running an SMTP gateway to forward your email to the Internet, you will need to arrange for final Internet delivery of your mail, which is something the SMTP gateway will not do. Your best option is to setup and maintain your own UNIX sendmail host (something which ChicagoNet can recommend consultants for). If that's not possible, ChicagoNet can do final email delivery for you at an additional monthly charge of $100 per month.
USENET newsgroups are not included on the digital connections, but are available at an additional charge of $100 per month.
Upgrades
The upgradability of your ChicagoNet Dedicated Connection is one of its best features. When you purchase a connection at 128K or higher, you can immediately upgrade your connection to a higher speed, usually with no additional fee. Just notify your account representative, and he or she can have ChicagoNet increase the speed of your connection, usually within a few hours. Then you just merely pay the higher monthly charge associated with the speed of your new connection.
Alternatively, if you choose to start with a 56K connection and you later decide to upgrade to a 128K or higher, we'll swap out the 56K-speed hardware and phone line and bring in the faster equipment.
Exactly What You're Getting
What you're getting with an ChicagoNet "Turnkey" Dedicated Connection (including leased hi-speed phone line) is as follows:
Internet data transmission at the full speed you're paying for
All costs of the leased line connecting your site to ChicagoNet
ChicagoNet responsibility for proper functioning of leased line
Multiple, redundant backbone connectivity to global Internet
ChicagoNet responsibility for the router and CSU/DSU on your site
Unlimited, technical support both remote and on-site
Backup spare hardware maintained and installed by ChicagoNet in case of equipment failure at your site
SNMP monitoring of connection and networking hardware
Ability to link unlimited number of users/servers to the Internet
DNS maintenance and subnetworking
Class C IP address provisioning as needed
Installation within 60 days of order placement